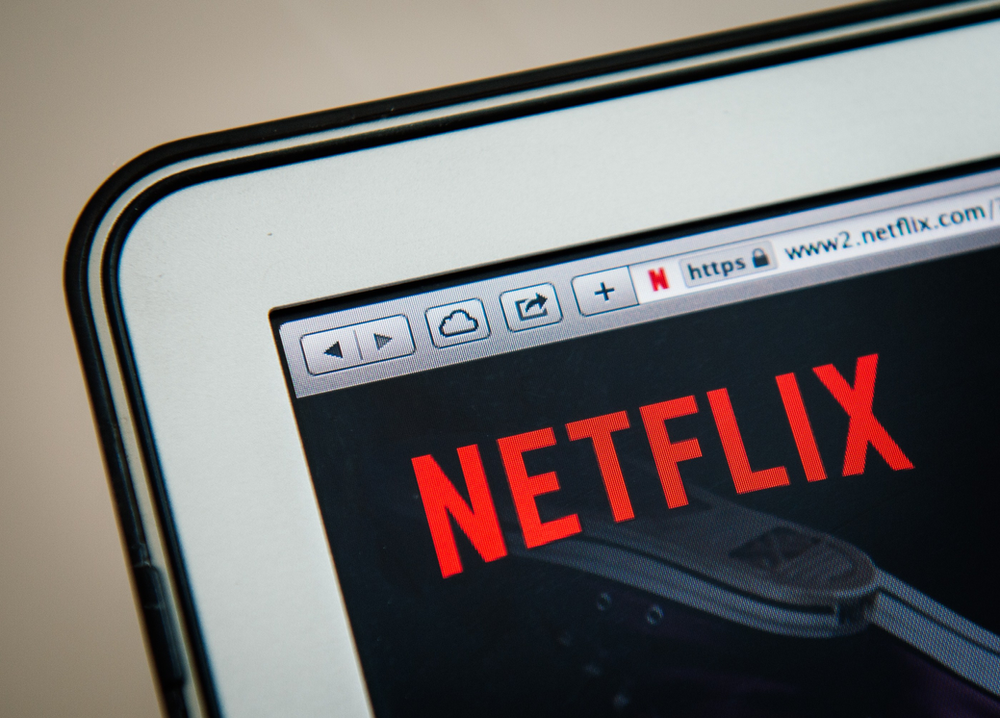 The irony is that this is by far the easiest subscription cancellation of all time, and the one I would be least likely to cancel in real life. So, I created a bogus account just for the sake of this article because I would absolutely never cancel my personal account. Yes, I realise I could just reactivate it later, but it's a matter of principle. I don't want Netflix to think I'm a fickle lover.
So fake Jen, imposter Jen, created an account for the basic evil purpose of cancelling it again straight away.
If you're someone who has managed to create a life for themselves beyond Netflix, I salute you, and am pleased to provide you with what is a simple, efficient method for cancelling your Netflix subscription. So simple in fact, it makes you want to stay. Even when you're just fake subscribing and cancelling.
Step 1:
Sign into your Netflix account. You'll be brought to your home screen. Gosh, it's so beautiful.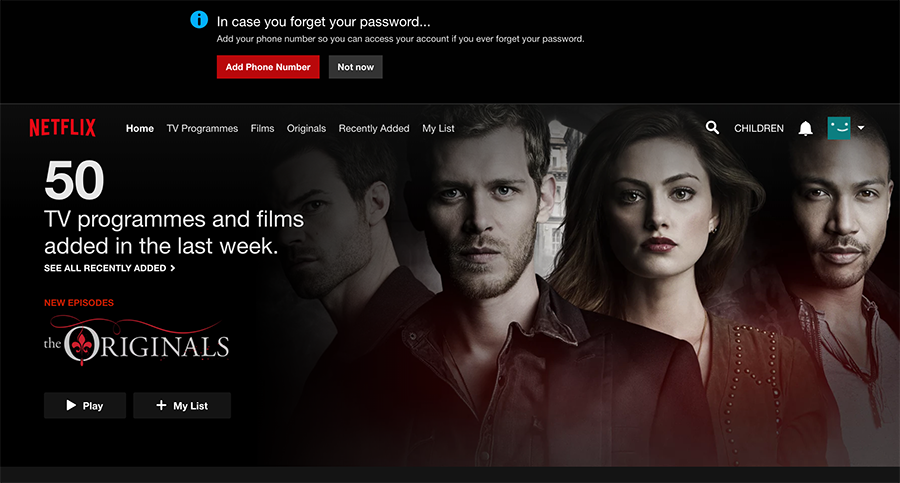 Step 2:
Over on the right, there is a little black arrow next to your Netflix icon: in this case next to my 'KIDS' option. Select this little arrow and it will give you a drop down menu. From this short efficient list of options, select 'Help Centre'. See how helpful they are already? Amazing!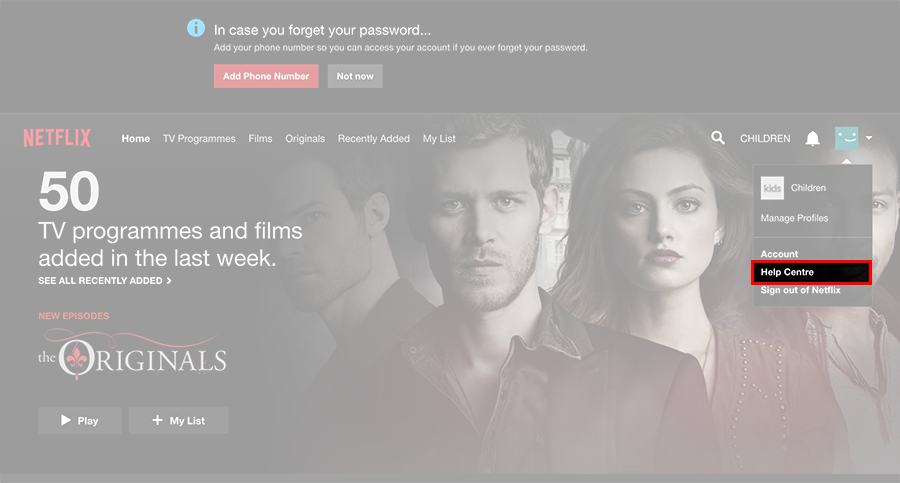 Step 3:
Now you've arrived at Help Centre. To the right hand side of this page is the greyed out menu with the subheading 'Quick Links'. Yet more evidence that Netflix doesn't like wasting your time…unless you count watching 2 seasons of Outlander over a single weekend. The second last option in this Quick Links list is 'Cancel Account'. Select, and we are almost done.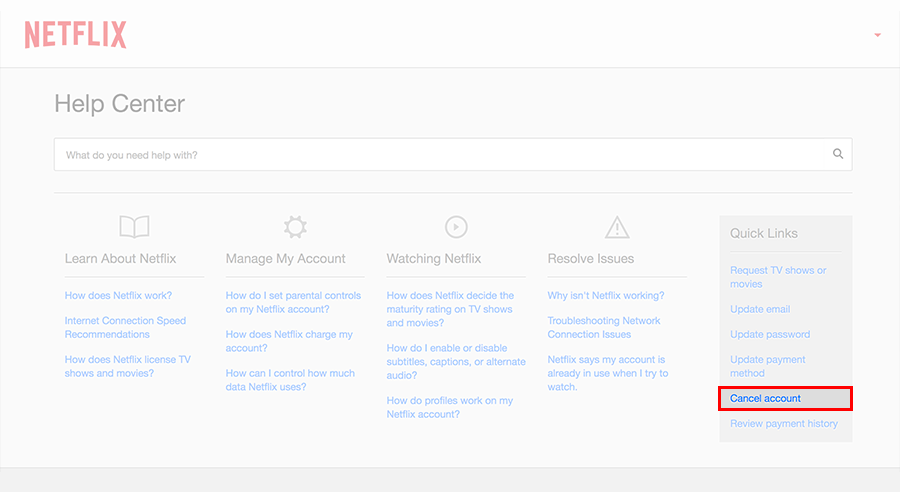 Step 4:
'Have you finished watching?' they ask. No! I'll never be finished! How dare you! However, if you've indeed finished watching, simply select 'Finish Cancellation'. If you'd like to stay in the loop, make sure you tick the check box so at the very least you can remain friends.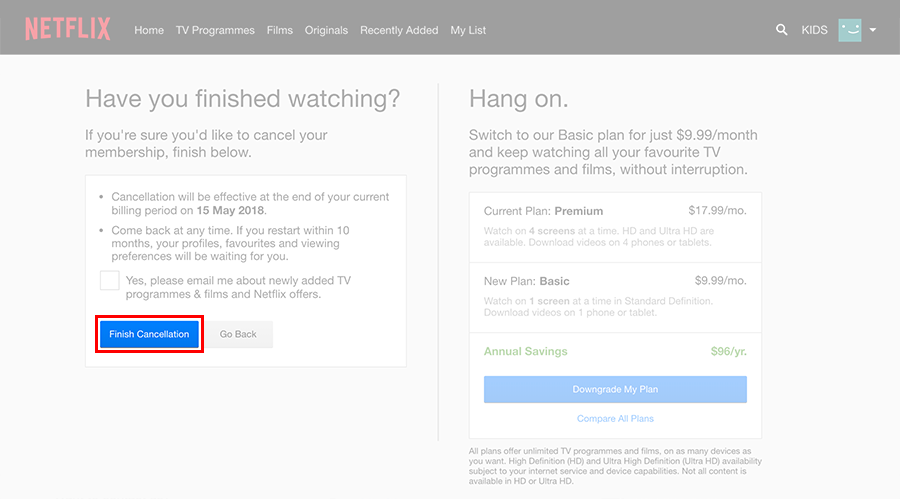 Step 5:
And that's it, unbelievably. I still can't believe it's this easy. You know when you break up with someone and they go 'yeah okay' and just wander off? They don't even care that you're leaving, and it makes you wonder if you've made a terrible mistake. Netflix has very impressive self-esteem.
If you're feeling generous, you can tell them why you want to end the relationship, but they didn't have an 'I love you so much, I swear it's all a ruse' option, so I just left it blank. When you're finished, select 'Done'.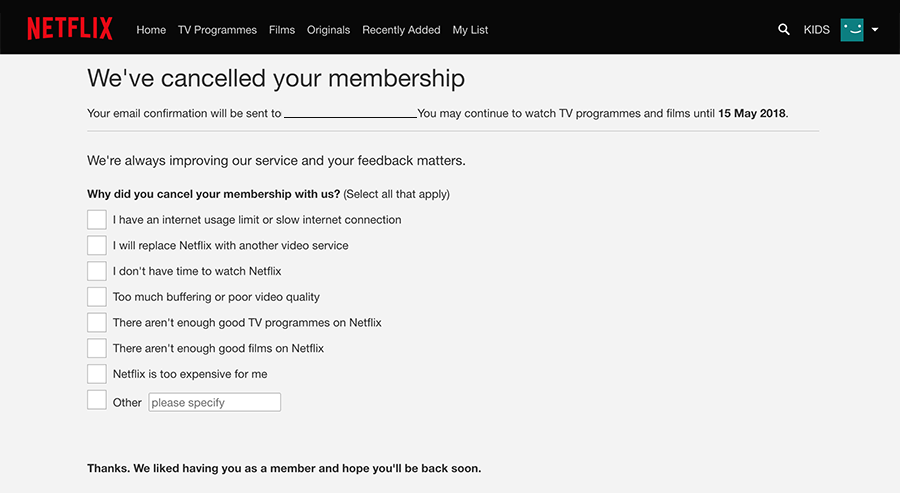 When you're done, you'll be brought back to your account page and your membership will expire at the end of your billing period. Now you can go into regret mode or get on with your life: whichever applies to you.
I think the ease with which you cancel your subscriptions says a lot about a company and their confidence in their product. Or I could just be biased. But with a subscription like Netflix, watching habits can be very seasonal. Being able to reactivate and then cancel again quickly when there's nothing you want to watch is a great feature. It means most people will come back again when their shows have arrived. If you know that you're going to have to run the gauntlet every time just to cancel, why wilfully subject yourself to the pain?
An easy cancellation means you can pop back and forth several times a year, benefiting the service provider in the long run than if you just cancelled for good. If only more service providers would see the big picture.