Hey, I love my audio books as much as the next person, but if I'm not actually listening to them then that's $14.95 down the tube every month for my Audible subscription.
Unfortunately, I'm not lucky enough to have the sort of life where I can cobble together 8 uninterrupted hours every month to listen to anything. Unless you count small children shouting at me for snacks.
So, if you're throwing your money away on a subscription you don't use, and want to cancel Audible, read on!
So, the good news is that if you want to cancel Audible, it's actually a very easy process. Not like some other subscription providers that want to send you to a murder mystery evening at the town hall just to get out of their streaming service. Not naming any names, Spotify…ahem.
We're often deterred from cancelling subscriptions because of the overall hassle involved. If it's not easy to cancel, it can just sit there until we're fueled by desperation and overdrawn credit cards.
Please, please just let me cancel the thingy, is the 'audible' cry from the masses.
Audible have heard our pleas. And because it's easy to cancel Audible, I'll more likely subscribe again in the future. I'm funny like that.
So, let's get down to it, and cancel that Audible account.
Firstly, you would've set up an Amazon account in order to have subscribed to Audible.
Therefore…
Step 1
Log into your Amazon account! Then you'll see on your home page your drop-down menu in the top right corner. Click this and select Your Account from the menu options.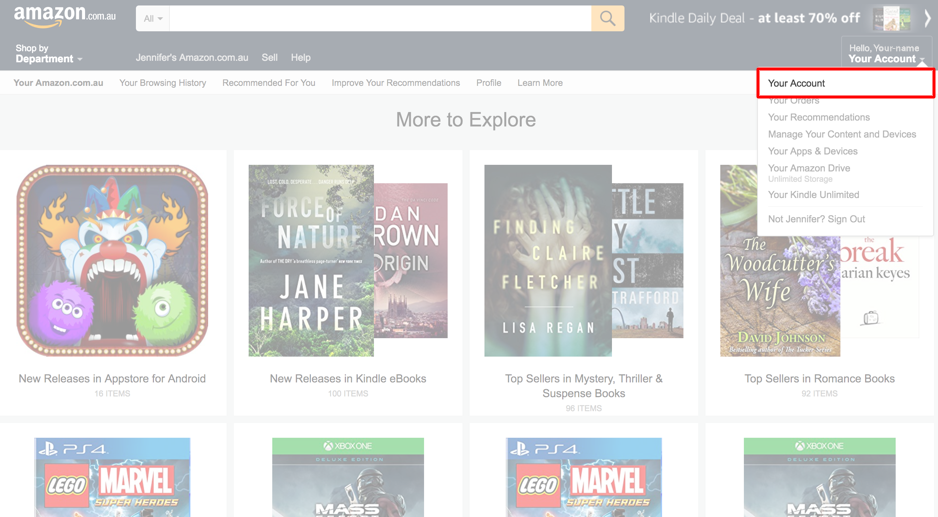 This will bring you to your account page for Amazon.
Step 2
You'll see at the bottom of your menu options, under the subheading Other accounts the option for your Audible membership. Clickety click on this.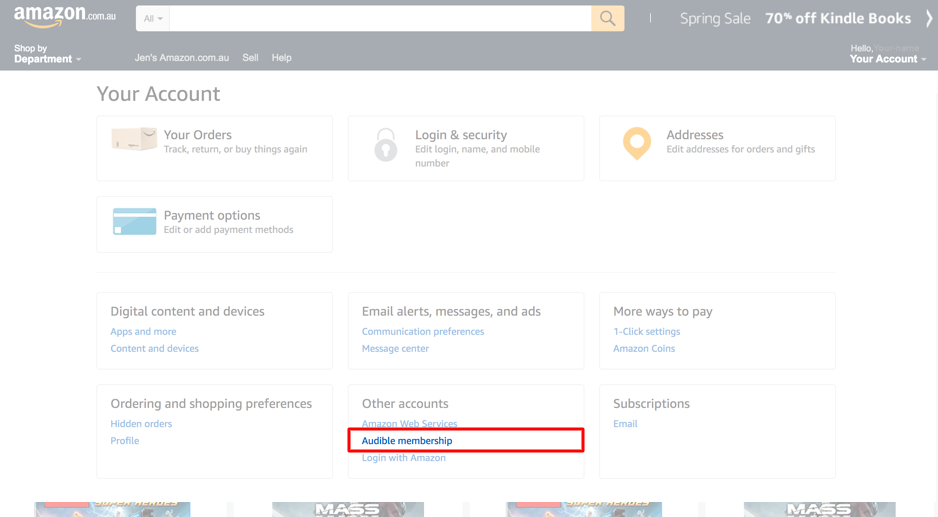 You'll arrive squarely on your Audible Home Page.
Step 3
Go to the drop-down menu under your Hello, (insert your name here) menu in the top right-hand corner of the page. Select the Your Account option. Yes, it'll feel like you already did this, but stay with me.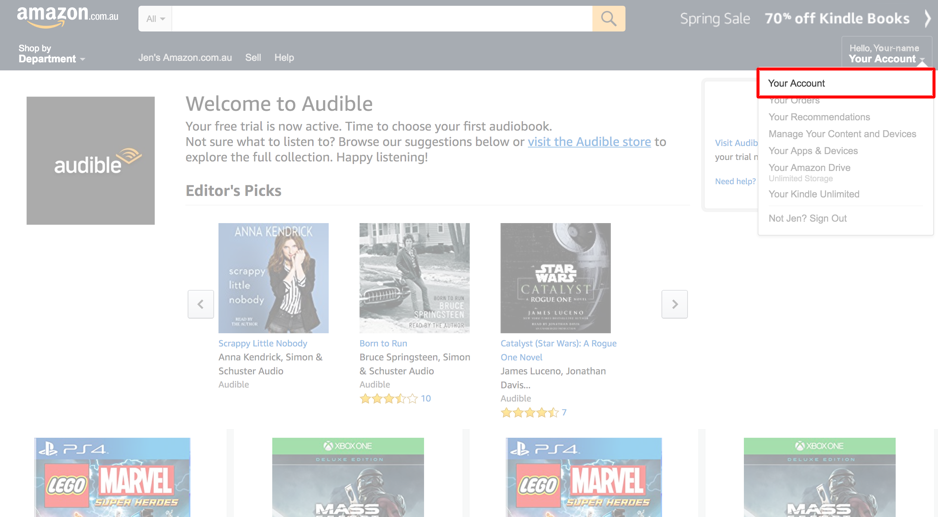 This will bring you to your Account Details page. And this is the most shocking step of cancelling your Audible subscription. Can you see? Just there, about two thirds down on the left-hand side is an actual Cancel my membership option. I know, I was amazed too.
Who could've imagined that such an option could exist in plain view, without ambiguity or ulterior motive?
Step 4
Select the Cancel my membership option reverently and in hushed tones.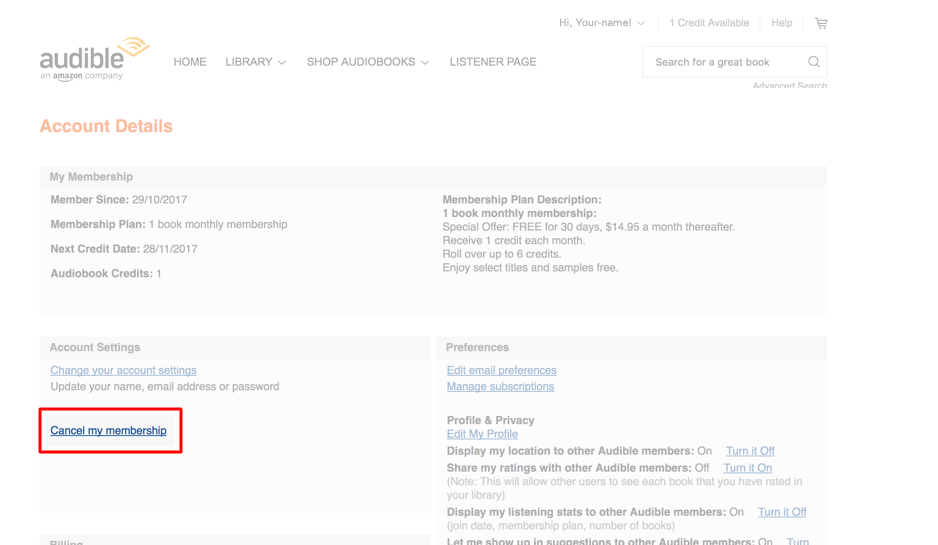 Now, during this whole cancel Audible process, Audible make this one half-hearted attempt to keep you on board. I have to say, they're not really fighting for me here. I'm so used to jumping through hoops to cancel subs, this actually makes me feel a bit rejected.
The only clever tactic is the menu options at the bottom of the page. They've only highlighted the option for using the credit and not the cancel button, meaning I had to read carefully to see that there was actually a clickable option next to it.
Rarely is a menu option just ordinary text on a white background. That's a little bit sneaky, or I'm a little bit dumb. I'll let it go this time.
Step 5
Select the option No thanks, continue cancelling.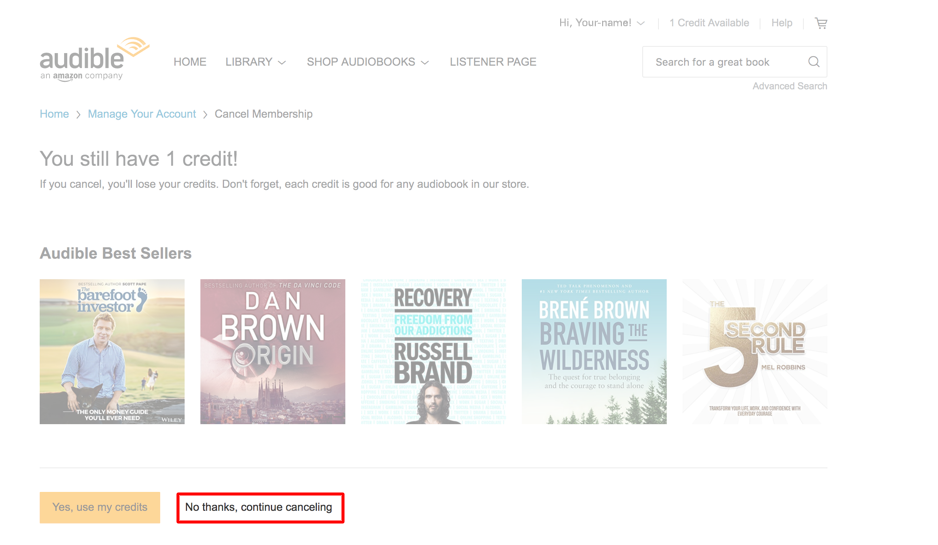 Now is your opportunity to give feedback to Audible as to why your cancelling. I didn't have a good reason to offer. I didn't think the kids screaming at me for food thing was going to make much sense, or be vital information for their database. So, I just skipped that one.
Step 6
Select the relevant feedback, and submit.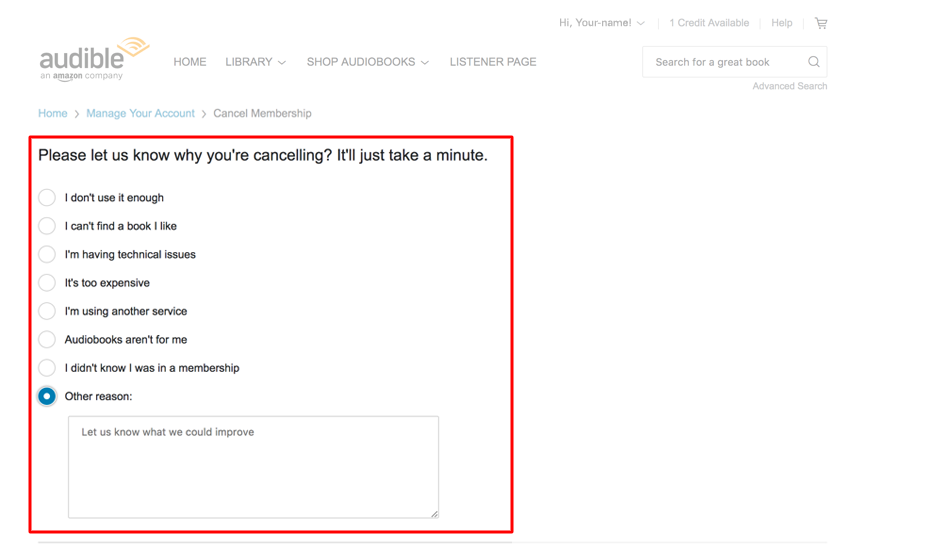 You'll now be offered the opportunity to choose another product or service. Press on as if it never happened.
Step 7
Select Cancel Membership at the bottom of the page.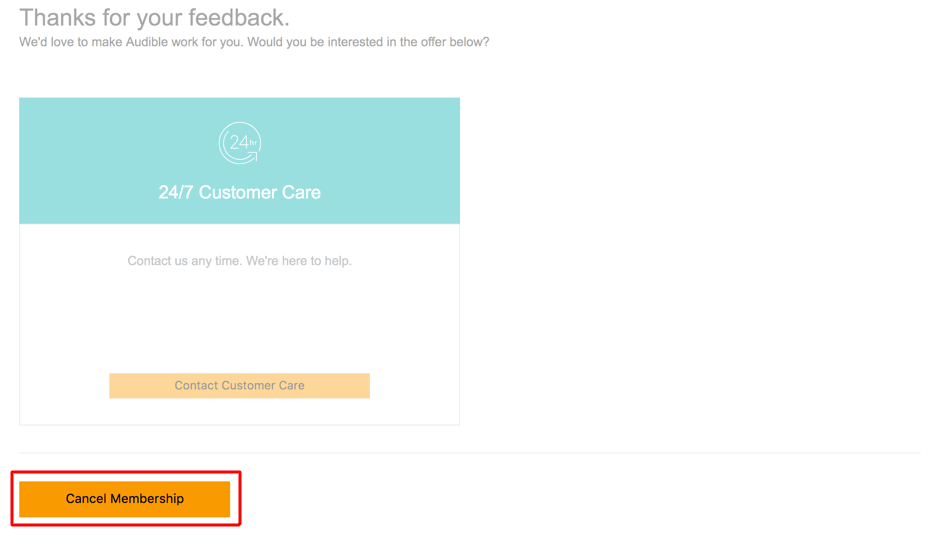 So, this is what I saw first, and I was very nearly going to take back all the nice things I was thinking about cancelling Audible. But I was able to hit the back key, and resubmit the request. Phew!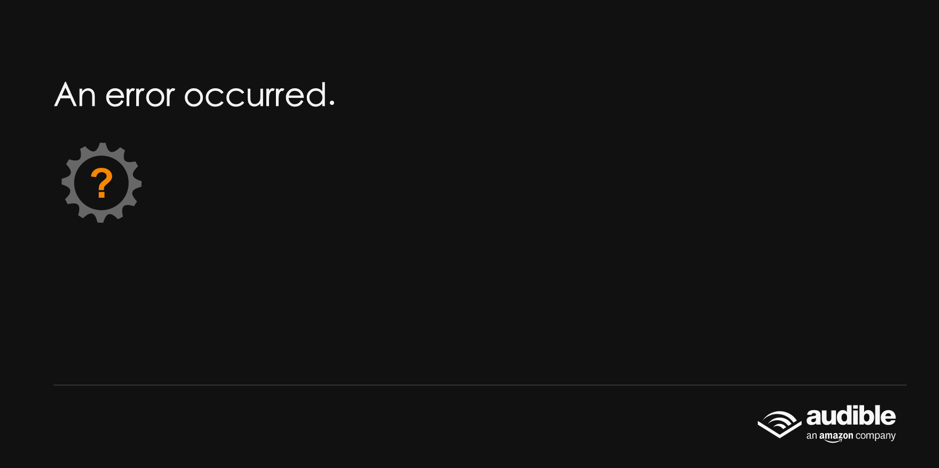 The end is here! Here's a nice little message about my cancelled Audible account and notification of an email on the way.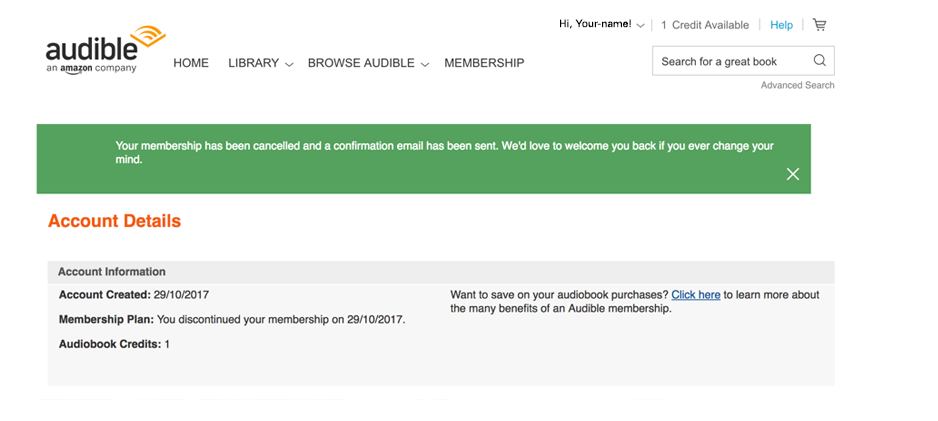 In my email inbox was this email with all the usual stuff in it. Please come back, we love you, why did you leave me, etc. And my Audible account is cancelled. Success!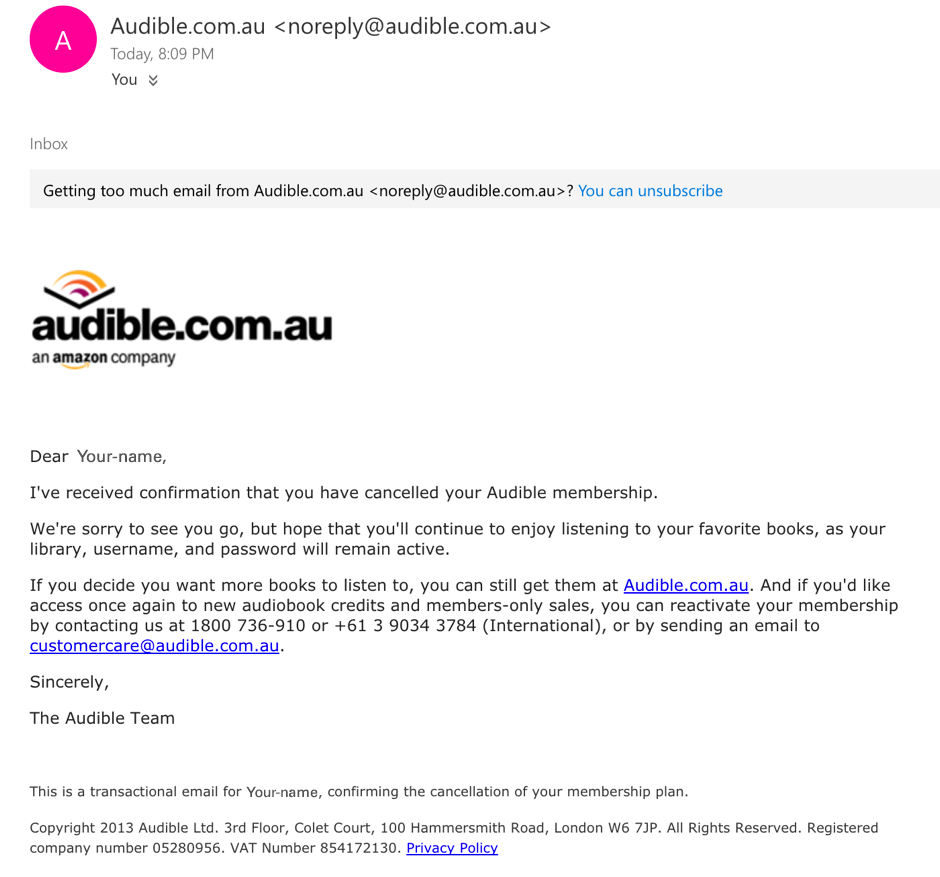 And now that you've successfully cancelled your Audible account, you can go on with your life!
Do you have any other subscriptions that are due for cancellation? Now that you're feeling accomplished and motivated, this is the time to touch base with your TrackMySubs account and see what else could be on the chopping block.
Maybe, now that you've got your $14.95 back per month, you can add something else you've been wanting to try. With your TrackMySubs account you can see what trials or memberships you don't use anymore, and quickly add in any new ones.
Don't get stuck paying for stuff you don't use.