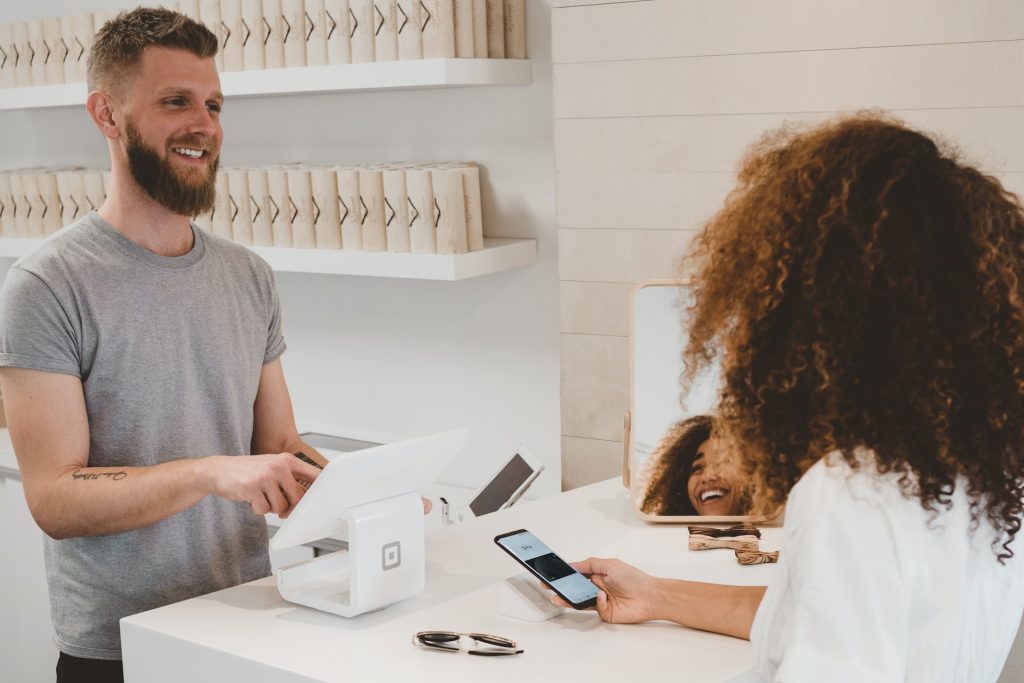 How can an online merchant encourage customers to buy? There are various conversion rate optimization techniques, marketing strategies, and sales formulas. They aim to direct buyers to the final spot on the purchase journey.
The list of customer acquisition tips is endless. It ranges from effective ads and search engine optimization to website improvement, including:
optimizing your eCommerce checkout;
ensuring seamless navigation;
customizing an on-site search.
However, sustainable eCommerce growth isn't just about finding new clients. You should also try to retain these buyers and increase their loyalty, for instance, with a loyalty program.
Loyalty programs in eCommerce provide numerous benefits to customers and store owners. Subscribers accomplish specific tasks or pay for being a member and receive value from it. Businesses, in turn, multiply sales and raise profits. This article will examine subscription loyalty programs, their benefits, and real-life examples. Do you have something worthwhile to offer to your clients? Let's dive in.
What Is a Subscription Loyalty Program, and Who Needs It?
Why Should an eCommerce Focus on Customer Loyalty?
Suppose a person chooses your brand over your competitors with similar products and relatively the same prices. What encouraged them to do that? There may be several decisive factors, such as:
a better website;
a more accessible return policy;
convenient delivery options;
more attentive customer service. So you've already done the most challenging part. You've acquired a buyer. Now it's time to continue communication with them to improve customer retention and loyalty.
Maximize the potential of having this customer and increase their satisfaction. What for? The reason is that loyal customers are more likely to purchase from the brand. Studies show that 67% of consumers buy at least once a month from their favorite company and tend to spend more.
Loyalty isn't just about spending more money and time with the brand. It also involves long-lasting relationships and attracting new customers through positive word of mouth. Recommendations from devoted customers may not skyrocket the number of new clients. But you can be sure of attracting leads with high purchase intent and trust. Stronger relationships with one client ensure a better return on investment (ROI).
Introduction to Subscription Loyalty Programs
How can you ensure customers will return to the store? Employ a loyalty program to reward your top clients. These programs entail earning points and redeeming them for prizes. The more customers spend, the more benefits they can achieve. You can find one of the examples of rewards programs in the screenshot below. It's a DSW VIP club where you can enjoy various bonuses.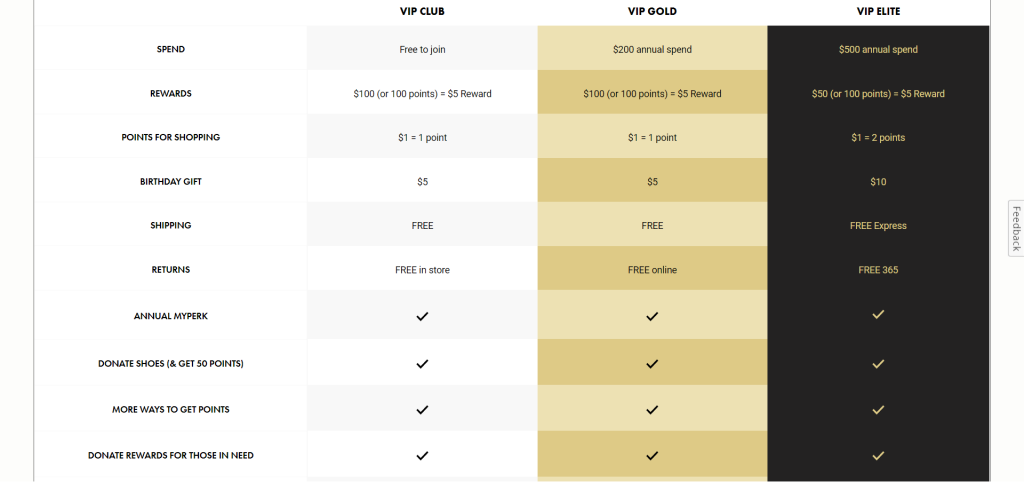 There are several types of loyalty programs, namely:
points-based;
tiered;
paid;
value-based.
We'll focus on a paid (subscription) one. Paid, premium, or subscription loyalty programs are a kind of incentive system that requires users to pay something to join. The contribution is typically a one-time or ongoing fee, but it is also possible to implement the paid model without using actual money.
One of the most famous paid systems is Amazon Prime. The service asks you to pay $14.99 monthly or $139 annually for numerous great benefits like free and fast shipping, games, books, photo storage, and try on before buying.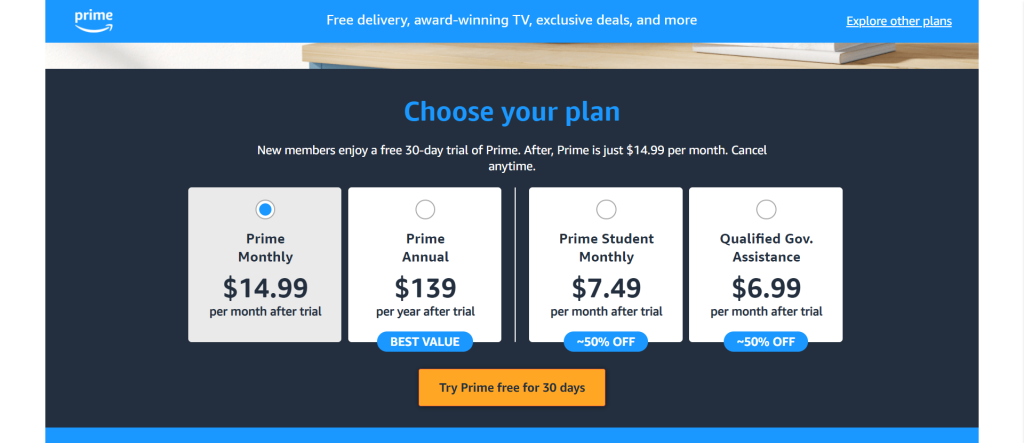 The most crucial feature of a subscription loyalty program is that subscribers receive more perks than in a free program. And this fact can incentivize clients to choose a paid variant over a free one. Here are the findings from the Clarus Commerce report. 81% of free loyalty program participants would enroll in a paid loyalty program in exchange for practical advantages, such as:
free samples and gifts;
early access to promotions and product collections;
free shipping;
invitations to events;
larger discounts;
cashback;
more points for the same activities performed by free participants.
A McKinsey survey shows that paid loyalty program subscribers are 60% more likely to increase their spending after joining it. They also become repeat purchases, so these programs are great for retaining customers.
Paid membership programs also increase customer engagement, purchase frequency, and revenue. They are also easier to analyze. Since there are fewer members, it is much simpler to understand customer preferences. You can pick the most relevant content to suit their needs, personalizing content even better.
4 Paid Rewards Program Models Based on the Terms of Participation
Paid loyalty programs fall under four categories depending on how often people should pay and the rules to qualify. Let's proceed to these scenarios.
1. Fee-Based Programs
Fee-based programs revolve around monthly payments, as seen in the Amazon Prime example. Companies usually develop these programs without offering a free subscription.
They may not have a large audience. But to encourage more people to participate, you can create a free trial period for a restricted period. Check the Walmart example in the screenshot below.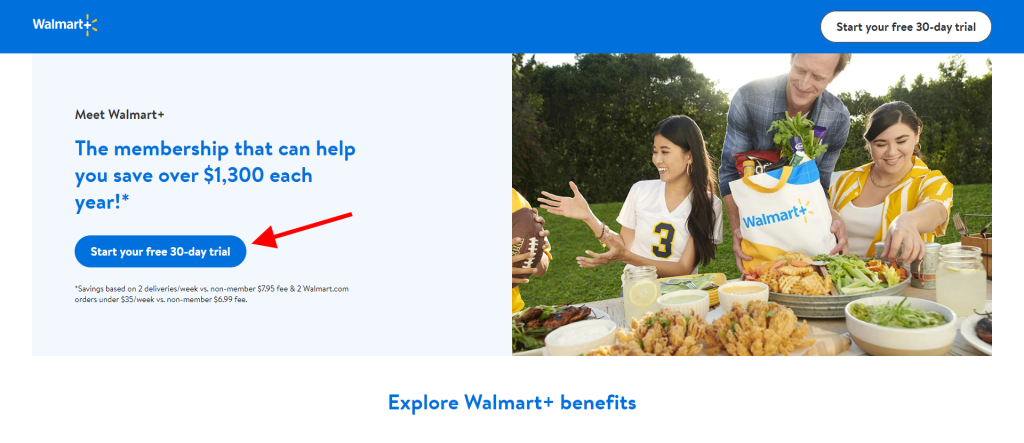 2. Premium Memberships
You may find it hard to encourage people to pay monthly fees for benefits they may access for free. So create a premium membership with valuable perks. This step will allow customers to have services offered by the basic program but upgrade to an advanced version for extra benefits. A premium solution provides revenue from paid members without isolating those unwilling to pay. Additionally, you'll raise your program's profit margin.
3. Lifetime Programs
This model is based on the one-time payment to receive bonuses while the program is viable. It's most common among hotels or airway companies. Why? Because customers may not need their services too often but will be more likely to choose the company they already know. Lifetime programs should give a big welcome prize to justify the investment in membership.
4. VIP Clubs
If you already have a loyalty program, another way to entice people to pay for it is to create a VIP club. It should be an exclusive group with extra benefits. Specify the rules for qualifying for this program. For example, customers should earn a certain amount of points, requiring them to purchase more to gain them in the first place.
Does Your Business Need a Subscription Loyalty Program?
While the above information may seem beneficial, premium loyalty programs don't suit all businesses. Consider this type of program in the following cases:
You can spur interest with impressive rewards. These benefits should be able to pay off the subscription costs and provide value to people, such as free shipping or access to exclusive content. Or they should always keep consumers engaged and intrigued, so you need to change the contents of freebies and gifts.

You have a high purchase frequency. It means customers need to buy at your store at least once a month to be ready to subscribe to a monthly program. Possible spheres include apparel, cosmetics, electronics, and other stores. You can also boost clients' interest by incorporating gamified elements on the website, spin-to-win pop-ups, giveaways, challenges, and social media contests.

You plan for the long term. Launching a loyalty program always involves extensive planning, where you consider the conditions, rewards, and possible profit. You can't change these variables when people start to enroll.
The program becomes even more demanding when you create a paid membership system. People want practical benefits for their money and a guarantee that you won't raise fees or remove some perks. Carefully analyze the membership fee to avoid overcharging and balance the cost of providing the benefits with your profits.
For example, the REI store offers a membership program with a one-time $30 payment and gives customers:
special discounts;
unlimited free shipping;
invitations to local events;
access to exclusive products.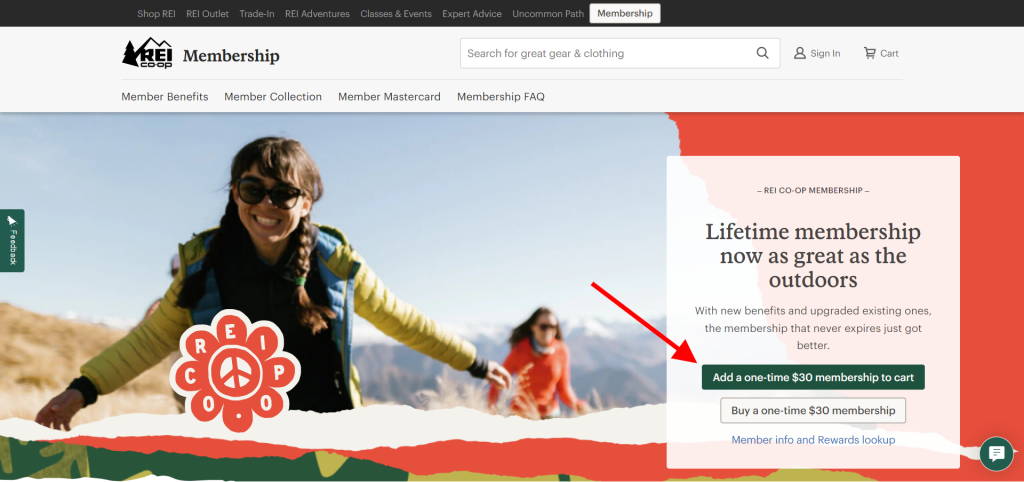 Over to You
Are you looking for ways to show appreciation to the most loyal customers? Launch a loyalty program for them to earn points, pay for subscriptions, and receive valuable prizes for their devotion.
Subscription loyalty programs don't generate many customers at once. Yet, they let you connect with the audience on a deeper level, discover their preferences, and offer the most needed products. They boost customer trust and encourage them to stay with the brand longer in exchange for fascinating gifts and unique content.
We've looked at paid loyalty programs and which businesses they suit. If you can come up with lucrative offers, inspire people to purchase more, and dedicate time and resources to developing a solid plan, give this way of engaging clients a shot.
About the Author
Art Malkovich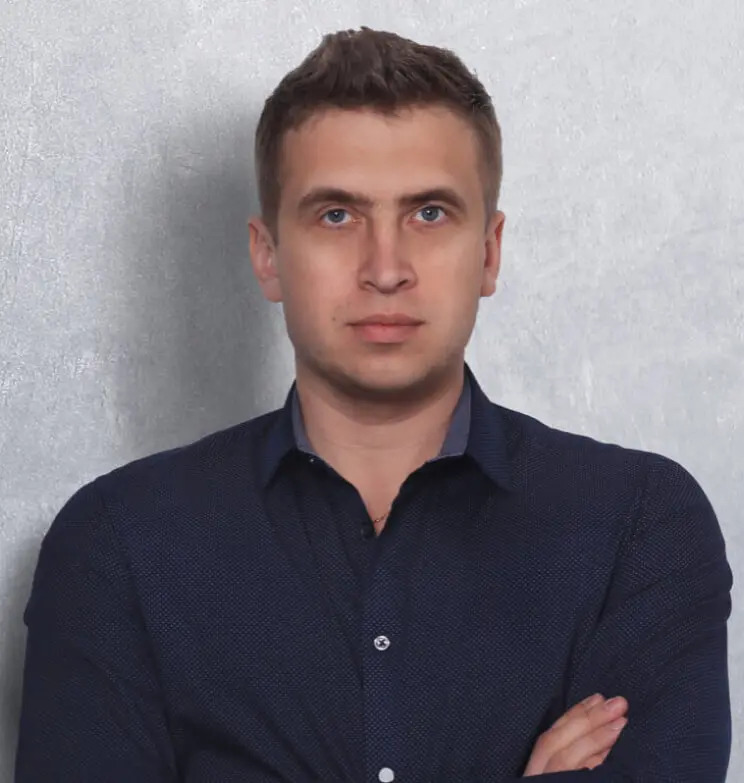 Art Malkovich is co-founder and Chief Executive Officer at Onilab web development agency. He has been providing the company's clients with the most efficient eCommerce solutions for 8+ years. Art gets the team of Magento and Salesforce developers acquainted with innovations in mobile commerce, PWA development, and UX/UI design as soon as they're available.